3 Super Sexy Outfits For Valentine's Day
By
Nina
on February 14, 2017
You don't need an excuse to be a bombshell. Dress like one any old day! However, Valentine's Day is the perfect time of the year to show off all your seductiveness and allure.
With V-Day approaching, you might be planning something special for your loved one. Whether you need a sexy outfit to take your love's breath away with a sensual private dance (find some useful tips here) or you are planning a "Galentine's" girls night out, we've got three heart pounding outfits for you.
#1 Sheer and Sparkly
Remember Rhianna's CFDA Awards jaw-dropping sheer sparkly dress? Well, we could say that this is the pole dancing version of that dress. This piece is a show stopper and definitely not something that your Valentine will expect to see you wearing that day. Go with the silver/black theme and complement your look with chrome heels.
Black and Silver Sheer Empire Set
Pair it with fake lashes, glam hair updo, and sultry moves.
#2 Black and Badass
Paint it black! Revealing mesh, strategically placed cut out details, patent leather lace-up boots, and a satin robe (to build up the anticipation) – this look is seriously badass. It will help you feel fierce and confident.
If you want to add a touch of mystery to your outfit, include the Rhinestone Cat Mask.
Check out how Bad Kitty Ambassador Sergia Louise Anderson is rocking this black romper and the boots. (Pssst, we might have stolen her look)
If you'd rather be a Lady in Red, here are similar hot red numbers:
Pair it with a high ponytail (for sexy hair whips) and a dark lipstick.
#3 Old Hollywood Glamour
If you are:
looking for an opportunity to wear silky above the elbow gloves
wanting an outfit with a vintage feel
This elegant and seductive look will sweep everyone off their feet. The revealing ShowGirl top model is attractive enough in itself, so the Gold Damask pattern just adds a dash of color and sophistication to the whole look. The rest is elegantly black.
6″ Classic Black Spiked Platforms 
Pair it with a glass of sparkly wine.
Happy Valentine's Day!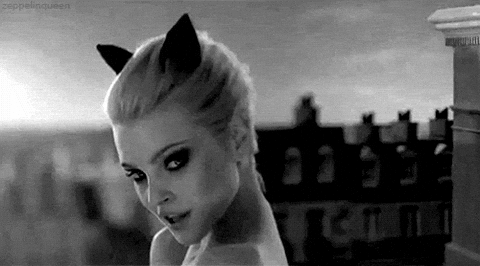 Comments
A pole and lyra enthusiast, day-dreamer and the queen of procrastination.
Find her at Polebook.net